Our Story
The Beginning of the Concept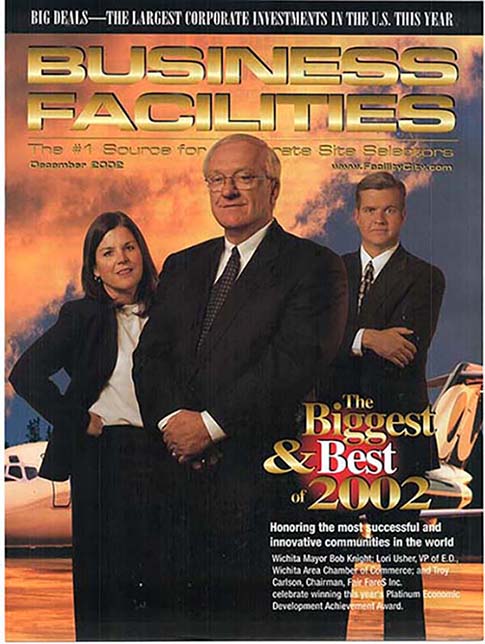 As a managing director for Right Management Consultants in Wichita, Kansas, Troy was responsible for building the market for a global consulting business with a mission to help individuals, teams and organizations grow. Understanding the importance of civic leadership, he publicly positioned the business to promote its objectives for growth and branding by not only serving clients but the community.
From 2001 to 2003, he founded and chaired a consortium of 43 business leaders called the Business Investment Group (BIG). Quickly after its inception, BIG united and launched a campaign called Fair Fare$, designed to overcome the most critical economic stumbling block for the community –affordable air service.
From 2002 to 2005, Troy was appointed by the mayor as Chairman of Fair Fare$, Inc., to represent private sector leaders. Fair Fare$ became internationally recognized as one of the most successful private/public air service campaigns ever launched. It was the honored as, "The Biggest and Best of 2002" by Business Facilities magazine and broke passenger growth records in a post 9/11 environment. Fair Fare$ is now referred to as "Affordable Air Fares for Kansans."
The success of Fair Fare$ planted the seed for the Initiatives concept. So many organizations cannot but need to work with C-level executives and public officials to achieve a large-scale vision/mission with the ability to make it a reality.
The Founding of Initiatives
Initiatives was established in 2005 in response to the growing need for strategic businesses development services for a variety of organizations. Unlike consulting firms that advise from the outside, Initiatives places a high emphasis on accountability and results by doing. We first understand our clients and then we integrate into their target markets so our clients understand them. We pull rather than push.
Acquiring the right talent with the ability to create a market strategy and successfully execute it remains problematic and out of reach for many organizations. Large corporations generally have the resources and expertise to hire, train, develop and retain top-level market research, sales and account teams to drive major sales and marketing projects.
Initiatives provides that same level of expertise on an outsourced basis. We effectively call on "C-level" officers such as CEOs, COOs, CFOs and public officials. We ask the right questions and get the right answers from the right people. From that, we develop and execute market-based strategies that drive results.
Outsourcing is commonly done in areas of accounting, human resources, legal counsel, engineering, and for a variety of other services. Initiatives takes the outsourcing concept a step further by providing strategic business development services that work. Over the years, we have proven ourselves by successfully serving private investors, large medium and small companies, unions, universities, and public/private partnerships.